We expel energy in many areas of our lives; it's time to pause and fill your tank.
Step away from your routine and join Caroline Boone of CC.Boone and Emily Raffield of BECASA in Seaside Florida, for a long weekend of rejuvenation – a time bound to be rich in vitality, creative spirit, daily purpose, nourishment of body & soul, connection to the natural world, and above all – a gift of renewal and joy.
Located on the Gulf Coast of Florida, 30A is one of the most popular destinations in the South. Boasting 20 miles of pristine coastline – sugar sand and crystal waters, and picturesque beach towns with rich beauty and spirit, a gorgeous canvas for joy and connection.
Retreat Includes:

5 day / 4 night stay at Palm Cottage in Seaside, FL

Lush culinary experiences | pasta dinner, seafood feast, picnic, cocktail hours and more

Entertaining & styling workshops

Craft, Vision Boarding and more

Dreams, Passions & Dream Life workshop

Meditation & Movement activities

Watercolor painting with fine artist, Susie Bettenhousen

Vitality Time: time to lounge poolside, walk the beach, rest, and soak up the magic of your surroundings

Beachside Bonfire by CC.Boone

Resort-inspired Gift Bag by BECASA

Does Not Include:
Travel / Airfare
Personal Requests or Souvenirs
Meet Your Hosts,
Caroline Boone of CC. Boone & Emily Raffield of BECASA
About Caroline
 CC.Boone was founded in 2019 with the heart to create intimate, coastal & culinary scenes to nourish the soul. What stemmed from creating artful charcuterie boards & tablescapes at home, has led me to this — a creative + culinary lifestyle on the coast.
My love for culinary forward settings, coastal travel & intentionally designed spaces began long before college, but I learned a lot as I attained my degree in Hospitality from the University of Arkansas. I believe my purpose in life is to use my creativity & intuition to gift you the hospitable moments that you may be connected to the beauty around us, leaving you refreshed and inspired.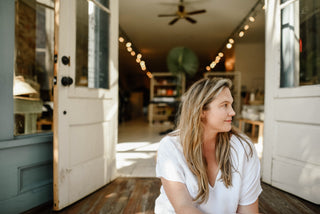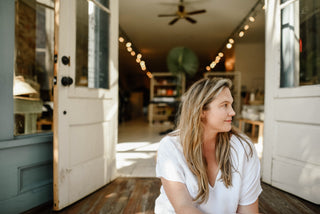 About Emily
Emily Raffield is a clothing designer, entrepreneur, author, and writer. A native Floridian, Emily has honed her signature style between a years-long coastal immersion in an area still considered "Old Florida" and an eye for the dialed-in fashion of our favorite global cities. With a diverse brand marketing background, Emily returned home to Florida when looking for an escape from the corporate realm; she began to pursue her true love of writing, creative direction, and artistic styling. She is an author ofSaints of Old Florida: A Coastal Lifestyle Book, a past Florida Book Awards winner in Visual Arts.

Emily designs clothing and accessories inspired by a coastal lifestyle for her resort-fashion line, BECASA. BECASA is accessible online or at its brick-and-mortar shops in Apalachicola, FL, where Emily and her husband, Rene, reside, and on 30A - Inlet Beach, FL."I love creating authentic and irresistible products, spaces, and communities. But, as women, we need more of that within reach, and I'm proud BECASA has become a home for our clients," says Emily."It's more than clothes alone; we consider BECASA a space for kinship – a resource. The Beach is our address, but our bond is far-reaching."
Benefits of attending a Retreat:
Changing your surroundings can boost creativity and productivity
The act of getting away helps to remove distractions
Dedicated time can be transformative and improve well-being
You'll build habits to bring home and incorporate into your daily life
A group retreat can create a community of support, accountability and camaraderie for growth
RETREAT ITINERARY
Thursday, October 19
3-5PM | ARRIVALS + WELCOME BAGS by BECASA
5:30PM | HAPPY HOUR by CC.BOONE: mocktails / cocktails + appetizers in the courtyard
6:30PM - 9PM | DINNER PARTY AT THE HOUSE : BECASA seafood dinner highlighting the Saints of Old Florida book + recipes / after dinner dialog + vision boarding
Friday, October 20
8:30AM | BREAKFAST
9 - 12PM | WORKSHOP: Block print stamping on BECASA linen
12:30 PM | LADIES BRUNCH
1- 5PM | BEACH DAY / POOL DAY
5:30PM | WORKSHOP: Blind Rosé Tasting with CC.BOONE
7:00PM | DINNER OUT at one of Emily & Caroline's favorites spots
Saturday, October 21
8:30AM | WORKSHOP: Yoga / Dream life guided visualization on the green
10:00AM | LIGHT BREAKFAST
11:30AM | WORKSHOP: Dialog and watercolor painting with fine artist Susie Bettenhausen
1:30PM | PICNIC LUNCH ON THE LAWN: Grab and go lunch - beach. picnic, etc .
1:30PM - 6:30PM | FREE TIME ( shop/ beach / bike )
6:30PM | WORKSHOP: Charcuterie Workshop + Spritz, dinner to follow with wine pairings by Tarpon Cellars. "How to host an Italian themed dinner party with CC.BOONE" sponsored by UASHMAMA.
Sunday, October 22nd
9:00AM - 1:00PM | FREE TIME / BREAKFAST OUT / AT-HOME MASSAGE AVAILABLE *Not included in price of retreat
1:00PM - 5PM | WORKSHOP: Lunch + Shell crafting by the pool with Emily of BECASA
6:00PM - 9:00PM | SUNSET SEND OFF PARTY : Coastal Bonfire by CC.BOONE with dinner, music, libations
Monday, October 23
9:00AM | DEPARTURES
MAKE YOUR PICK. Book your experience.